1993年获江西医学院学士学位,1999年获苏州医学院硕士学位,2002年获上海医科大学医学博士学位,之后在美国加州大学洛杉矶分校做博士后研究,2006年被复旦大学引进,先后担任复旦大学基础医学院生化系副教授、教授和系主任,生物医学研究院(IBS)PI。2017年调入复旦大学附属肿瘤医院并同时兼任IBS PI(http://ibs.fudan.edu.cn/peoplemore.php?id=230&tid=1)。目前担任中国细胞生物学会细胞代谢分会会长,中国生物化学与分子生物学会基础医学专业分会副理事长和上海市生物化学与分子生物学会副理事长。
  长江特聘教授,享受政府特殊津贴专家。研究方向为肿瘤代谢,成果以通讯作者/共同通讯作者在Cancer cell, Cell Metabolism, Molecular Cell, Nature Cell Biology, Nature Communications 和 J.Clin. Invest. 等杂志发表。
  先后主持基金委国家杰出青年、重点项目和重大项目、科技部国家重大科学研究计划项目;入选上海市卫生系统"优秀学科带头人"、上海市教委"曙光学者"、上海市优秀学术带头人、科技部中青年科技领军人才。获明治乳业生命科学杰出奖、教育部自然科学一等奖和二等奖、中国青年女科学家奖、中国女医师协会五洲女子科技奖、上海市自然科学一等奖、上海市科技精英提名奖、上海市自然科学牡丹奖、普康奖教金、上海育才奖、上海市三八红旗手标兵和全国三八红旗手等荣誉。
研究领域:
  聚焦肿瘤代谢领域的关键科学问题,主要围绕以下三个方向开展研究:
1. 肿瘤细胞如何感受并利用营养物质
2. 肿瘤代谢重塑过程中关键代谢酶的调控机制
3. 肿瘤代谢与肿瘤微环境的相互作用机理
研究团队: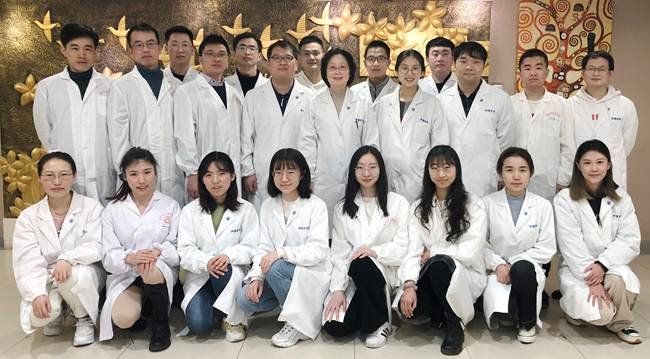 代表性论著:(*为通讯作者)
Li JT#, Yin M#, Wang D#, Wang J, Lei MZ, Zhang Y, Liu Y, Zhang L, Zou SW, Hu LP, Zhang ZG, Wang YP, Wen WY, Lu HJ, Chen ZJ, Su D, Lei QY*. BCAT2-mediated BCAA catabolism is critical for development of pancreatic ductal adenocarcinoma. Nature Cell Biology, 2020; 22:161-174. https://doi.org/10.1038/s41556-019-0455-6. (

Highlight: Preview in

Nature Cell Biology)
Guo J#, Zhang Q, Su Y, Lu X, Wang Y, Yin M, Hu W, Wen W, Lei QY*. Arginine methylation of ribose-5-phosphate isomerase A senses glucose to promote human colorectal cancer cell survival. Sci China Life Sci, 2020 Mar 6. doi: 10.1007/s11427-019-1562-y. [Epub ahead of print]
Liu Y#, Guo JZ#, Liu Y#, Wang K, Ding WC, Wang H, Liu X, Zhou ST, Lu XC, Yang HB, Xu CY, Gao W, Zhou L, Wang YP, Hu WG, Wei YQ, Huang CH*, Lei QY*. Nuclear Lactate Dehydrogenase A Senses ROS to Produce a-Hydroxybutyrate for HPV-Induced Cervical Tumor Growth. Nature Commun,

2018; 9: 4429. doi: 10.1038/s41467-018-06841-724.

Zhong XY, Yuan XM, Xu YY, Yin M, Yan WW, Zou SW, Wei LM, Lu HJ, Wang YP*, Lei QY*

. CARM1 Methylates GAPDH to Regulate Glucose Metabolism and Is Suppressed in Liver Cancer.

Cell Reports

, 2018; 24(12): 3207-3223.

doi: 10.1016/j.celrep.2018.08.06

6.

Xia S, Lin R, Jin L, Zhao L, Kang HB, Pan Y, Liu S, Qian G, Qian Z, Konstantakou E, Zhang B, Dong JT, Chung YR, Abdel-Wahab O, Merghoub T, Zhou L, Kudchadkar RR, Lawson DH, Khoury HJ, Khuri FR, Boise LH, Lonial S, Lee BH, Pollack BP, Arbiser JL, Fan J*, Lei QY*, Chen J*. Prevention of Dietary-Fat-Fueled Ketogenesis Attenuates BRAF V600E Tumor Growth. Cell Metabolism

, 2017 Feb 7; 25(2):358-373.

(

Highlight: Nature)
Zhang Y#, Xu YY#, Zhao XN, Li JT, Yang HB, Zhang M, Li, Yao CB, Yin M*, Chen J*, Lei QY*. Acetylation targets HSD17B4 for degradation via CMA pathway in response to E1. Autophagy

,

2017 Mar 4

;

13(3):538-553.
Wang YP*,Wang J,Gao X, Xu YY, Cheng JK*, Lei QY*

. Arginine Methylation of MDH1 by CARM1 Inhibits Non-canonical Glutamine Metabolism and Suppresses Pancreatic Cancer.

Molecular Cell

, 2016; 64:673–687.

(

Highlight: Cancer Discovery)

Gao X#, Lin SH#,Ren F, Li1 JT, Chen JJ, Yao CB,Yang HB,Jiang SX, Yan GQ, Wang D, Wang Y, Liu Y, Cai Z, Xu YY, Chen J, Yu W, Yang PY*, Lei QY*. Acetate Functions as an Epigenetic Metabolite to Promote Lipid Synthesis under Hypoxia. Nature Commun, 2016 Jun 30; 7:11960. doi: 10.1038/ncomms11960.

Yang HB#., Xu YY#*., Zhao XN, Zou SW*., Zhang Y., Zhang M., Li JT, Ren F., Wang LY., Lei QY*. Acetylation of MAT IIα represses tumour cell growth and is decreased in human hepatocellularcancer. Nature Commun, 2015 Apr 30; 6:6973. doi: 10.1038/ncomms7973.

Zha, ZY., Han, XR., Matthew D. Smith, Liu, Y., Patrick M. Giguère, DraganaKopanja, PradipRaychaudhuri, David P. Siderovski, Guan, KL*., Lei, QY*. , and Xiong, Y*. A non- canonical function of Gβ as a subunit of E3 ligase in targeting GRK2 ubiquitylation. Molecular Cell, 2015; 58(5):794-803.
Zhou, X#., Wang, SY#., Wang, Z., Feng, X., Liu, P., Lv, X-B., Li, F-L., Yu, F-x., Sun,YP., Yuan, HX., Zhu, HG., Xiong,Y*., Lei, QY*., Guan, KL*. Estrogen Activates TAZ via GPER in Invasive Ductal Breast Carcinoma. J Clin Invest, 2015; 125(5):2123-35.

Zhao, D., Mo, Y., Li, MT., Zou,SW., Cheng, ZL., Sun, Y-P., Xiong, Y*., Guan, KL*., Lei, QY*. NOTCH-induced aldehyde dehydrogenase 1A1 deacetylation promotes breast cancer stem cells. J Clin Invest, 2014; 124(12):5453-65.

Li T, Liu F, Feng X, Wang Z, Das I, Xu Y, Zhou X, Sun Y, Guan KL , Xiong Y, Lei QY*. Glyceraldehyde-3-phosphate Dehydrogenase Is Activated by Lysine 254 Acetylation in Response to Glucose Signal. J. Biol. Chem, 2014; 289(6):3775-85.

Lv L#, Xu Y#, Zhao D, Li F, Wang W, Sasaki N, Jiang Y, Zhou X, Li T, Guan KL*, Lei QY* and Xiong Y*. Mitogenic and oncogenic stimulation of K433 acetylation promote PKM2 protein kinase activity and nuclear localization. Molecular Cell, 2013; 52:340–352. Highlights:

(

Cover story in Molecular Cell ,Highlight by Nature Review in Cancer and Cancer Discovery)
Lin R#, Ren T#, Gao X, Zhou X, Li T, Xiong Y, Guan KL, Lei QY*. Acetylation Stabilizes ATP- citrate Lyase to Promote Lipid Biosynthesis and Tumor Growth. Molecular Cell, 2013; 51: 506–518.

Zhao D#, Zou S#, Liu Y, Zhou X, Mo Y, Wang P, Xu Y, Dong B, Xiong Y*, Lei QY* and Guan KL*. Lysine-5 Acetylation Negatively Regulates Lactate Dehydrogenase A and Is Decreased in Pancreatic Cancer. Cancer Cell, 2013; 23:464-476.

Lv L, Li D, Zhao D, Lin R, Chu Y,Zhang H, Zha Z, Ying Liu, Li Z, Xu Y, Huang Y, Gang W, Xiong Y, Guan KL, and Lei QY*. Acetylation Targets the M2 Isoform of Pyruvate Kinase for Degradation through Chaperone-Mediated Autophagy and Promotes Tumor Growth. Molecular Cell, 2011; 42:719-730.

Feature article

Highlights: (Preview in Molecular Cell

,

highlighs in Science Signaling, Faculty of 1000.)
 Invited Review
Li JT, Wang YP, Yin M*, Lei QY*. Metabolism remodeling in pancreatic ductal adenocarcinoma. Cell Stress, 2019 Nov 4; 3(12):361-368.

Wang YP*, Lei QY*. Metabolite sensing and signaling in cell metabolism. Signal Transduction and Targeted Therapy, 2018; 3:30.

Zhou X, Lei QY*. Regulation of TAZ in cancer. Protein Cell, 2016; 7(8):548-61.
Zhou X, Wang Z, Huang W, Lei QY*. G protein-coupled receptors: bridging the gap from the extracellular signals to the Hippo pathway. Acta Biochim Biophys Sin (Shanghai), 2015; (1):10-5.
Huang W, Wang Z, Lei QY*. Acetylation control of metabolic enzymes in cancer: an updated version. Acta Biochim Biophys Sin (Shanghai), 2014; 46(3):204-13.
Lin R, Zhou X, Huang W, Zhao D, Lv L, Xiong Y, Guan KL, Lei QY*.Acetylation control of cancer cell metabolism. Curr Pharm Des, 2014; 0(15):2627-33.
Zhao D, Li FL, Cheng ZL, Lei QY*. Impact of acetylation on tumor metabolism. Mol Cell Oncol, 2014; 1(3):e963452.
Zhao B, Lei QY*, Guan KL*. The Hippo-YAP pathway: new connections between regulation of organ size and cancer. Current Opinion Cell Biology, 2008; 20(6):638-46.