王建华,博士,研究员,博士生导师,上海高校特聘教授(东方学者)及跟踪计划,上海市卫生局优秀学科带头人。1994年毕业于安徽省蚌埠医学院医学检验专业,1997年和2002年分别获上海交通大学医学院微生物专业硕士和生物化学与分子生物学专业博士学位,2003年在美国从事博士后研究,2009年1月回国,任实验室PI。
研究领域:
  1.表观遗传修饰高甲基化癌基因1(HIC1)调控肿瘤发生发展;
  2.前列腺癌微环境异质性机制及作用;
  3.煤矿粉尘防控与职业安全健康。
研究团队: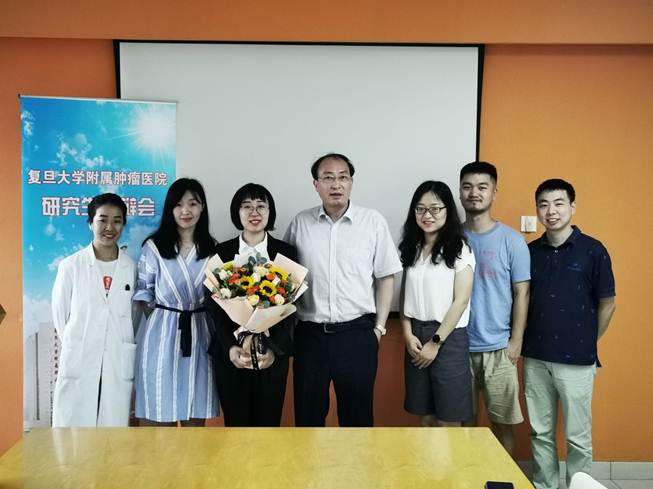 代表性论著:
Mu M , Li B, Zou YJ, Wang WY, Cao HB, Zhang YJ, Sun QX, Chen HM, Ge DY, Tao HH, Hu D, Yuan L*, Tao XR*, Wang JH*. Coal dust exposure triggers heterogeneity of transcriptional profiles in mouse pneumoconiosis and Vitamin D remedies. Particle and Fibre Toxicology. 2022,19:in press.
Chen SJ#, Zhu GH#, Yang Y#, Wang FB#, Xiao YT, Zhang N, Bian XJ, Zhu YS, Yu YW, Liu F, Dong KQ, Zhang B, Chen WD, Wang C, Chen D, Guo QH, Yi ZF, Liu MY, Fraser M, Kwast TV, Jiang Z, Wang JH*, He HS*, Ren SC*. Single cell analysis reveals onset of multiple progression associated transcriptomic remodellings in prostate cancer. Nature Cell Biology. 2021; 23:87-98. (*共同通讯作者). Highlights published in this issue (Nature Cell Biology. 2021, 23:3-5)
Yao M#F, Shi XL#, Li Y#, Xiao YT, Butler W, Huang YQ, Du LL, Wu TQ, Bian XJ, Shi GH, Fu GH, Ye DW*, Wang JH*, Ren SC* . LINC00675 activates androgen receptor axis signaling pathway to promote castration resistant prostate cancer progression. Cell Death & Disease. 2020, in press.
Liang Y#, Hou LD#, Li LJ, Li L, Zhu LM, Wang Y, Huang X, Hou YC, Zhu DX, Zou HM, Gu Y, Weng XL, Wang YY, Wu TQ, Yao MF, Gross I, Gaiddon C, Meng Luo M *, Wang JH*, Meng XJ*. Dichloroacetate restores colorectal cancer chemosensitivity through p53/miR-149-3p/PDK2-mediated glucose metabolism pathway. Oncogene. 2020; 39:469-485. (*共同通讯作者)
Wang YY, Weng XL, Wang LY, Hao MG, Li Y, Hou LD, Liang Y, Wu TQ, Yao MF, Lin GW, Jiang YW, Fu GH, Hou ZY*, Meng XJ*, Lu JS*, Wang JH*. HIC1 deletion promotes breast cancer progression by activating tumor cell/fibroblast crosstalk. Journal of Clinical Investigation. 2018; 128(12):5235-5250.
Bian XJ#, Xiao YT#, Wu TQ, Yao MF, Du LL, Ren SC*, Wang JH*. Microvesiclesand chemokines in tumor microenvironment: mediators of intercellular communications in tumor progression. Molecular Cancer. 2019 Mar 30; 18(1):50. doi: 10.1186/s12943-019-0973-7.
Hao MG, Wang JL, Qin J, Ding YF, Sun XQ, Zu LD, Wang YY, Li Y, Chang K, Lin GW, Du JY, Korinek V, Ye DW, Wang JH*. HIC1 loss promotes prostate cancer metastasis by triggering epithelial–mesenchymal transition. The Journal of Pathology. 2017; 242:409-420.
Zu LD, Xue YJ, Wang JL, Fu YJ, Wang XM, Xiao G, Hao MG, Sun XQ, Wang YY, Fu GH, Wang JH*. The feedback loop between miR-124 and TGF-β pathway plays a significant role on non-small cell lung cancer metastasis. Carcinogenesis. 2016; 37:333-43.
Cheng GC, Sun XQ, Wang JL, Xiao G, Wang XM, Fan XM, Zu LD, HaoMG, Qu Q, Mao Y, Xue YJ, Wang JH*. HIC1 silencing in triple-negative breast cancer drives progression through misregulation of LCN2. Cancer Research. 2014; 74:862-72.
Zheng JH, Wang JL, Sun XQ, Hao MG,Ding T, Xiong D, Wang XM, Zhu Z, Xiao G, Cheng GC, Zhao MZ, Zhang J, Wang JH* . HIC1 by epigenetic modification modulates prostate cancer progression. Clinical Cancer Research. 2013; 19:1400-10.