2020年11月-今:复旦大学 青年研究员 2015年2月-2020年9月:芝加哥大学 博士后 2009年9月-2014年6月:复旦大学 博士 专业:生物化学与分子生物学 2005年9月-2009年6月:苏州大学 学士 专业:生物科学 胡璐璐研究员在博士期间解析了表观遗传学领域重要蛋白DNA羟甲基化酶TET2的晶体结构,并采用生物化学与分子生物学手段阐述其底物识别机制,底物偏好性机制以及功能。在博士后期间从事DNA 5hmC修饰及RNA m6A修饰二代测序新方法的开发,研究其在癌症等疾病的早筛和诊断中的应用前景。胡博士以第一或共同第一作者在Nature,Cell,Cell research,JACS等国际知名学术期刊发表SCI论文。TET2蛋白结构和底物识别机制的研究工作,曾获教育部高等学校科学研究优秀成果奖(自然科学)一等奖;DNA 5hmC二代测序新方法,现已授权一项美国专利;RNA m6A 二代测序新方法,现已授权一项美国专利。胡璐璐博士的研究方向为研究RNA m6A修饰在造血干细胞分化中的功能;开发超小量细胞的ChIP-Seq, RIP-Seq的新技术;运用晶体学以及冷冻电镜研究RNA表观遗传学领域和染色质重要大分子复合物的结构。 研
研究领域:
生物大分子相互作用新方法和技术的开发
专利:
Methods for detecting cytosine modification. 专利号:PCT/US2018/012288
m6A-SAC-seq for quantitative RNA m6A-sequencing. 专利号:ARCD.P0698USP1/1001087687
所获人才项目:
海外高层次人才计划,青年项目(2019)
所获奖项:
2014 "Excellent Ph. D" of Fudan University and Shanghai City
2014 Graduate "Star of Scientific Research" of Fudan University
2015~2017 Chicago Fellow Award
2016~2017 The Chicago Biomedical Consortium (CBC) fellowship
2017~ 2020 11 Leukemia & Lymphoma Society Special Fellow
2016年:教育部自然科学一等奖(2/5)
研究团队: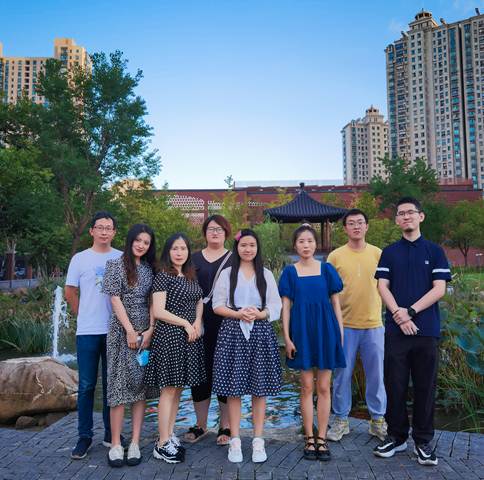 代表性论著:
1. Hu L#, Liu Y#, Han S#, Yang L#, Cui X, Gao Y, Dai Q, Lu X, Kou X, Zhao Y, Sheng W, Gao S, He X*, He C*. Jump-seq: Genome-Wide Capture and Amplification of 5-Hydroxymethylcytosine Sites. J Am Chem Soc. 2019 Jun 5; 141(22):8694-8697.
2. Zhang LS#, Liu C#, Ma H, Dai Q, Sun HL, Luo G, Zhang Z, Zhang L, Hu L, Dong X, He C*. Transcriptome-wide Mapping of Internal N7-Methylguanosine Methylome in Mammalian mRNA. Mol Cell. 2019 Jun 20; 74(6):1304-1316.e8.
3. Ji L#, Jordan WT#, Shi X, Hu L, He C, Schmitz RJ*. TET-mediated epimutagenesis of the Arabidopsis thaliana methylome. Nat Commun. 2018 Mar 1; 9(1):895.
4. Wang W#, Xu L, Hu L, Chong J, He C, Wang D*. Epigenetic DNA Modification N6-Methyladenine Causes Site-Specific RNA Polymerase II Transcriptional Pausing. J Am Chem Soc. 2017 Oct 18; 139(41):14436-14442.
5. Lu J#, Hu L#, Cheng J#, Fang D, Wang C, Yu K, Jiang H, Cui Q, Xu Y*, Luo C*. A computational investigation on the substrate preference of ten-eleven-translocation 2 (TET2). Phys Chem Chem Phys. 2016 Feb 14; 18(6):4728-38.
6. Hu L#, He C*. Detecting hepatocellular carcinoma in blood. Cell Res. 2015 Dec; 25(12):1279-80.
7. Hu L#, Lu J#, Cheng J#, Rao Q, Li Z, Hou H, Lou Z, Zhang L, Li W, Gong W, Liu M, Sun C, Yin X, Li J, Tan X, Wang P, Wang Y, Fang D, Cui Q, Yang P, He C, Jiang H, Luo C*, Xu Y*. Structural insight into substrate preference for TET-mediated oxidation. Nature. 2015 Nov 5; 527(7576):118-22.
8. Hu L#, Li Z#, Cheng J#, Rao Q, Gong W, Liu M, Shi YG, Zhu J, Wang P, Xu Y*. Crystal structure of TET2-DNA complex: insight into TET-mediated 5mC oxidation. Cell. 2013 Dec 19; 155(7):1545-55.
9. Hu L#, Li Z#, Wang P, Lin Y, Xu Y*. Crystal structure of PHD domain of UHRF1 and insights into recognition of unmodified histone H3 arginine residue 2. Cell Res. 2011 Sep; 21(9):1374-8.
10. Yang Y#, Hu L#, Wang P#, Hou H, Lin Y, Liu Y, Li Z, Gong R, Feng X, Zhou L, Zhang W, Dong Y, Yang H, Lin H, Wang Y, Chen CD*, Xu Y*. Structural insights into a dual-specificity histone demethylase ceKDM7A from Caenorhabditis elegans. Cell Res. 2010 Aug; 20(8):886-98.