1993年毕业于上海医科大学获肿瘤学硕士学位,2009年赴美国M.D.安德森肿瘤中心做访问学者。擅长于乳腺肿瘤和腹部肿瘤的放射治疗,尤其在乳腺癌、前列腺癌等肿瘤疾病的放射治疗及综合治疗方面有较深入的研究。现任复旦大学附属肿瘤医院院长、上海市质子重离子医院(复旦大学附属肿瘤医院质子重离子中心)院长,中国抗癌协会副理事长、中国抗癌协会肿瘤放射治疗专业委员会候任主任委员。曾承担多个市级科委科研项目及国家自然科学基金。先后在国内外肿瘤权威杂志发表论文60余篇。
研究领域:
  1.乳腺癌的临床与转化性研究
   开展早期乳腺癌保乳术后部分乳腺照射、全乳大分割放疗、乳腺癌粒子治疗等前瞻性研究;着力于前列腺癌和乳腺癌转化性研究,尤其在不同分子分型的乳腺细胞的放疗敏感性差异及放射增敏剂应用等方面有着深入研究。
  2.质子重离子的临床与转化性研究
  质子和重离子放疗是目前最尖端的放疗技术。复旦大学附属肿瘤医院质子重离子中心/上海市质子重离子医院于2015年5月正式投入使用,是国际上第三个同时拥有质子和重离子放疗系统的医疗单位,目前已治疗各类肿瘤患者千余例。着眼于"精准医疗",以乳腺癌和前列腺的质子、重离子放疗技术临床个体化应用为核心,明确基于生物影像和组学特征谱的多线束精准放疗的适应人群。
研究团队: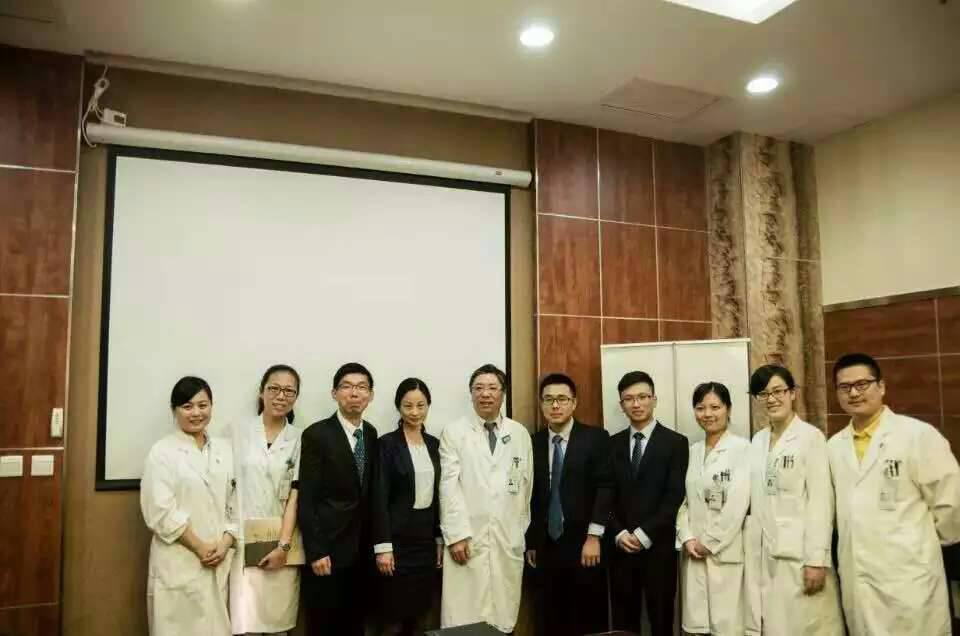 代表性论著:
Zhou ZR#, Wang CC, Sun XJ, Yang ZZ, Chen XX, Shao ZM, Yu XL*, Guo XM*. Prognostic factors in breast phyllodes tumors: a nomogram based on a retrospective cohort study of 404 patients. Cancer Medicine, 2018; 7(4):1030–1042.
Zhou ZR#, Yang ZZ, Yu XL*, Guo XM*. Highlights on molecular targets for radiosensitization of breast cancer cells: Current research status and prospects. Cancer Medicine, 2018; 7:3110–3117.

Zhou ZR#, Yang ZZ#, Wang SJ, Zhang L, Luo JR, Feng Y, Yu XL, Chen XX*, Guo XM*. The Chk1 inhibitor MK-8776 increases the radiosensitivity of human triple-negative breast cancer by inhibiting autophagy. Acta Pharmacologica Sinica, 2017; 38(4):513-523.
Chen XX#, Ma NY#, Zhou ZR#, Luo JR, Mei X, Yang ZZ, Zhang L, Wang XF, Feng Y, Yu XL, Ma JL*, Guo XM*. Estrogen Receptor Mediates the Radiosensitivity of Triple-Negative Breast Cancer Cells. Medical Science Monitor, 2017; 1;23:2674-2683.
Hou J#, Zhou ZR#, Chen XX#, Zhao RP, Yang ZZ, Wei N, Ni Q, Feng Y, Yu XL, Ma JL*, Guo XM*. HER2 reduces breast cancer radiosensitivity by activating focal adhesion kinase in vitro and in vivo. Oncotarget, 2016; 7(29):45186-45198.
Hu QC#, Mei X#, Feng Y, Ma JL, Yang ZZ, Shao ZM, Yu XL*, and Guo XM*. Early Local Recurrence Presents Adverse Effect on Outcomes of Primary Breast Sarcoma A Retrospective Study From Single Institute in China. Medicine, 2016; 95(1): e2422.

Zhou ZR#, Mei X#, Chen XX, Yang ZZ, Hou J, Zhang L, Yu XL*, Guo XM*. Systematic review and meta-analysis comparing hypofractionated with conventional fraction radiotherapy in treatment of early breast cancer. Surgical oncology, 2015; 24(3):200-211.
Zhang L#, Yang ZZ#, Chen XX#, Tuan J, Ma JL, Mei X, Yu XL, Zhou ZR, Shao ZM, Liu GY*, Guo XM*. Dose coverage of axillary level I-III areas during whole breast irradiation with simplified intensity modulated radiation therapy in early stage breast cancer patients. Oncotarget, 2015; 6(20):18183-18191.
Qi WX, Fu S*, Zhang Q and Guo XM. Efficacy and toxicity of molecular targeted therapies in combination with docetaxel for metastatic castration-resistant prostate cancer: a meta-analysis of phase III randomized controlled trials. Journal of chemotherapy, 2015; 27(3):181-187.
Zhang Q#, Yu XL#, Hu WG, Chen JY, Wang JZ, Ye JS and Guo XM*. Dosimetric comparison for volumetric modulated arc therapy and intensity-modulated radiotherapy on the left-sided chest wall and internal mammary nodes irradiation in treating post-mastectomy breast cancer. Radiology and oncology, 2015 Mar 3; 49(1):91-98.
Qi WX, Fu S*, Zhang Q and Guo XM*. Incidence and risk of severe infections associated with anti-epidermal growth factor receptor monoclonal antibodies in cancer patients: a systematic review and meta-analysis. BMC medicine, 2014 Nov 5; 12:203.
Wang X, Li L, Liang Y, Li C, Zhao H, Ye D, Sun M, Jeong LS, Feng Y, Fu S, Jia L*, Guo X*. Targeting the neddylation pathway to suppress the growth of prostate cancer cells: therapeutic implication for the men's cancer. Biomed Res In, 2014; 2014:974309.
Wang ZL#, Hou J#,Lu LL, Qi ZH, Sun JM, Gao W, Meng J, Wang Y, Sun HZ, Gu HY, Xin YH, Guo XM*, Yang G*. Small Ribosomal Protein Subunit S7 Suppresses Ovarian Tumorigenesis through Regulation of the PI3K/AKT and MAPK Pathways. Plos ONE, 2013 Nov 11; 8(11):e79117.
Chen X, Yu X, Chen J, Yang Z, Shao Z, Zhang Z, Guo X*, Feng Y. Radiotherapy can improve the disease-free survival rate in triple-negative breast cancer patients with T1-T2 disease and one to three positive lymph nodes after mastectomy. Oncologist, 2013; 18(2):141-147.
Chen X, Yu X, Chen J, Zhang Z, Tuan J, Shao Z, Guo X*, Feng Y. Analysis in early stage triple-negative breast cancer treated with mastectomy without adjuvant radiotherapy: Patterns of failure and prognostic factors. Cancer, 2013; 119(13):2366-2374.
Yang Z, Chen J, Xie J, Zhu C, Pan Z, Yu X, Mei X, Fu X, Guo X*. Simultaneous integrated boost in breast conserving radiotherapy: is replanning necessary following tumor bed change. Technology in Cancer Research and Treatment, 2013; 12(2):115-122.